Supermarket Slip and Fall Claims Guide
If you've been injured in a slip and fall at Coles, Woolworths or any other Australian supermarket, you may be entitled to compensation.
This guide will help you understand everything you need to know to make a successful supermarket slip and fall claim and receive a compensation payout.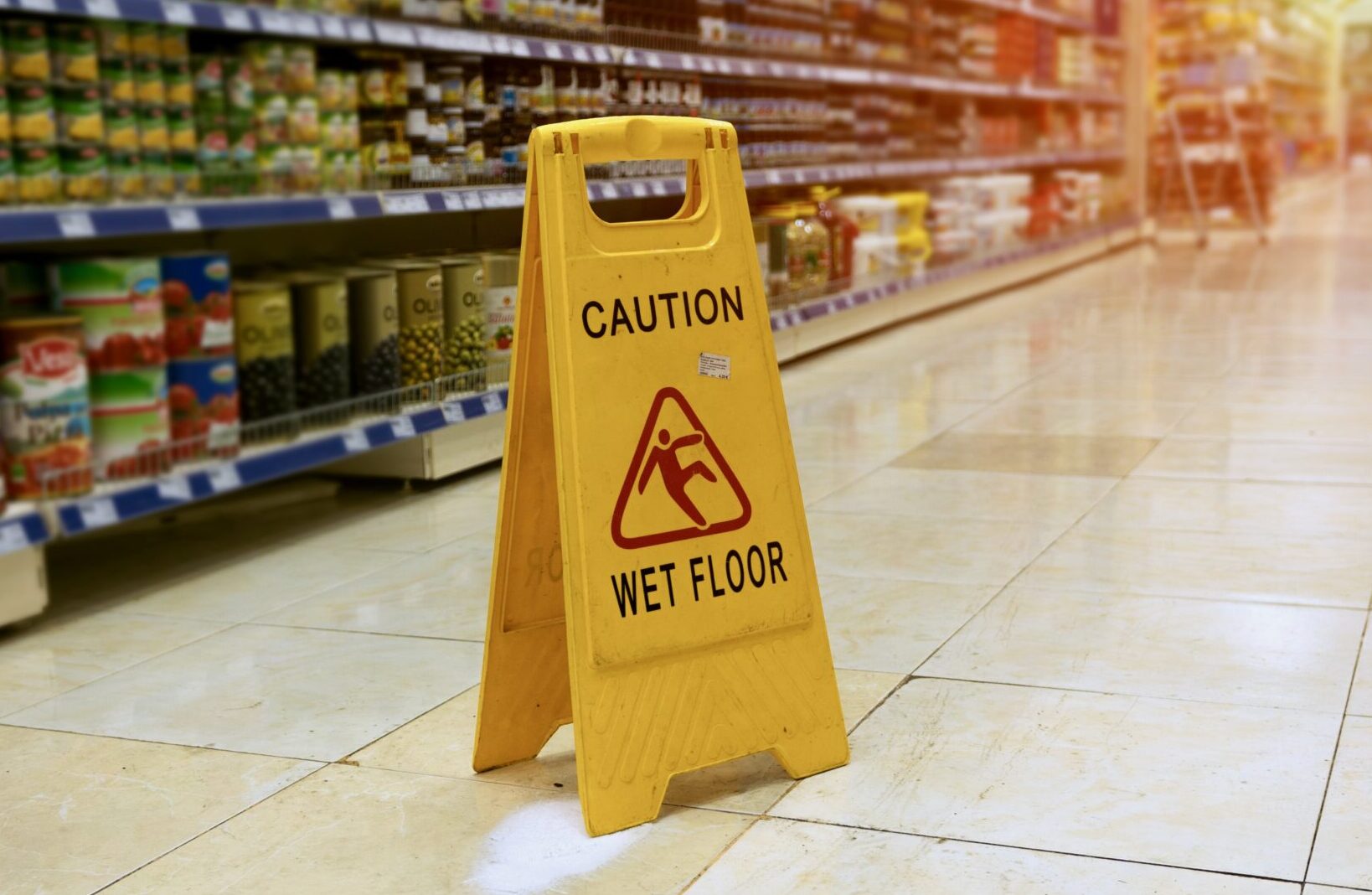 Quick Links
Our solicitors are experts in public liability and personal injury law and know the steps needed to secure you the compensation you need to get your life back on track.
What do I do if I've been injured at a supermarket?
If you have sustained an injury as a result of a fall in a supermarket like Woolworths or Coles this is what you need to do;
Step 1 – Report the accident to the supermarket themselves and ensure they have a written record of the fall, also ask them to keep any CCTV they have showing the fall. If you can get a copy of any written record or the CCTV.
Step 2  – Seek medical assistance for any injury sustained and make sure the Doctor records properly in their clinical notes how the fall occurred.
Step 3 – You need to be certain how the fall happened, what caused you to fall and how you fell, any doubt as to what happened can be used against you.
Step 4  – Contact a slip and fall lawyer who specialises in claims against Supermarkets. The best lawyers are Accredited Specialists in Personal Injury law.
Common Causes of Supermarket Slip and Fall Cases
There are several causes of supermarket slip and fall cases. In most cases, this will be due to the failure of the Supermarket to ;
Cleaning up spilt food and liquid as soon as reasonable to do so
Cleaning up litter and debris as soon as reasonable to do so
Placing signs down to warn of hazards
Ensuring the supermarket is well lit
Placing mats in areas where slips are likely
Failing to have in place a proper system of detecting and cleaning and spilt food or liquid so it does not present as a slip hazard.
How Much Compensation am I Entitled to if I Fall in a Supermarket?
Depending on the extent and severity of injuries, compensation payouts are usually in the range from thousands of hundreds of thousands. In 2020, a woman sued Woolworths for slipping and falling on a grape that led to a serious injury, resulting in a hip replacement. She was ultimately entitled to $1.3 million in damages. This is an extreme case, but compensation is payable for time off work, medical expenses and pain and suffering for your injuries.
How Much Will Submitting a Claim Cost Me?
There is no upfront payment of legal costs for making a public liability claim. We have a 'No Win No Fee' guarantee at Garling&Co, which means that if we lose the case, you will not owe us any money.
How Long do I have to make a Claim Following a Supermarket Injury?
Yes, there are strict time limits for which you must file a supermarket injury claim. All public liability claims must be lodged within 3 years of the date of 'discoverability'. The date of discoverability is the date from which the injured person knows that:
The fact that the injury or death concerned has occurred.
The fact that the injury or death was caused by the fault of the defendant
In the case of injury, the fact that the injury was sufficiently serious to justify the bringing of an action on the cause of action.
It is best to ensure any claim is made within 3 years from the date of the injury.
What Can Supermarket Accident Compensation Pay For?
When claiming compensation for a fall in a supermarket, you may be entitled to the following types of compensation which lawyers call damages:
Loss of income (past and future)
Medical Expenses (past and future)
Pain and Suffering
Loss of Enjoyment of Life
Loss of earning capacity
Care and assistance
Such compensation is payable as a one off lump sum to cover both past and future losses you may have due to the injury sustained.
Supermarket slip and fall case example
The law of occupier's liability in NSW as it relates to slip and fall claims in supermarkets was reviewed by the High Court of Australia in Strong v Woolworths Limited (2012) HCA 5.
The High Court found that a supermarket such as Woolworths as the occupier of the premises is required to carry out regular inspection and removal of slipping hazards at intervals no greater than 20 minutes.
The Plaintiff must demonstrate how long the substance was on the floor prior to the fall however this time period can be inferred by the circumstances surrounding the claim.
In this particular case, the Plaintiff slipped on a hot chip at around 12.30pm. The Plaintiff could not prove how long the chip was on the floor. The supermarket could only say that they last inspected the floor at 8.00am that morning. The court inferred that on the balance of probabilities the chip had been on the floor for more than the reasonable 20 minutes and as a result the plaintiff was successful in her claim.
It is crucial therefore in any claim to be able to demonstrate how long the cause of the slip was on the floor. If the supermarket carries out regular inspection and removal of any hazards and they can demonstrate that they did so within a 20 minute period then in most cases, the Plaintiff will not be successful.
In any supermarket claim a plaintiff's lawyer should seek preliminary discovery before commencing proceedings to obtain all documents and evidence in relation to the defendant's system of inspection and cleaning. If the defendant is unable to provide evidence that they had a system in place to inspect the floor every 20 minutes, then it is likely that the plaintiff will be successful.
Other examples of slip and falls in supermarkets are where there is a large puddle of water leaking from say a refrigeration system. The plaintiff will not be able to call direct evidence as to how long the water had been on the floor however can prove this in two ways.
The first would be to obtain the supermarkets records of inspection and cleaning. If the supermarket is unable to provide evidence that they at least inspected the floor every 20 minutes then it can be inferred that the water was on the floor for longer than 20 minutes. The second is the size of the pool of water which may also indicate that the water had been on the floor for more than 20 minutes.
It is crucial in a supermarket slip and fall claim to obtain evidence of the defendant's system of inspection and cleaning. The court applied a period of 20 minutes to a supermarket such as Woolworths however in a high traffic area such as a food court, a reasonable system of inspection and cleaning may be 10 minutes. Likewise if the area where the fall occurred is less busy, a longer period will apply.
Should you have any questions in relation to slip, trip and fall claims, please do not hesitate to contact us.