NSW Workers Compensation weekly benefits explained.
Weekly Compensation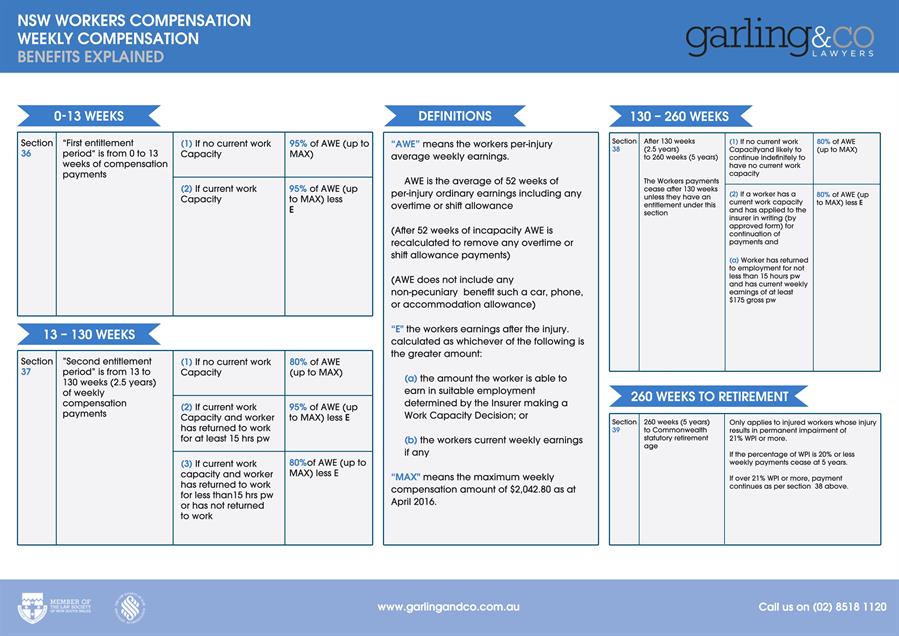 Yanthi S.
01:51 18 May 22
I engaged with Garling and Co to assist me for my weekly payment dispute with the insurance. I was upset with Natasha, as she didn't prepare me to the worse outcome or kind of negotiation in the

...

hearing. I assumed that as a Lawyer she should experience with the process or the way to solve the case. Even though I asked her what should I do or what would be happened in the hearing a week before but she didn't mentioned anything, and told me not do anything. But in the hearing she and the Arbitrator only gave me less than 5 minute to make decision and pushed me to accept the disappointed outcome and what she said totally different with what she said earlier. I don't trust her at all, her words is not consistent.I would like to express my appreciation to Matthew Garling who had stepped in to handle my weekly payment issue with the insurance. He is very professional, knowledgeable, easy to talk to and very humble. My disappointment earlier has melted away by his kindness and caring to resolve my issue which has came out the great outcome. Now I am satisfied with his expertise therefore I would not hesitate to let him to handle the case I might have in the future.

read more
Lynda S
00:34 04 May 22
For such complicated matters, it is extremely important to have a good team in your corner. The right team.Garling and co is just that and much more.They listen to you and care. They support you

...

during the entire process. You will have so many questions and they always return your calls and reply to your emails.Thank you so much to Renee, who explained everything to me and what to expect in details and really reassured me. The process felt less heavy and stressful because she was there. She was professional and so efficient. She took over my case from previous lawyer and I wish I could have met her first. She was available to answer the many questions I had along the way. There is also Kelli, she was the first person I got on the phone most of the time when I called and she is nice and very helpful, I had so many questions and doubts, I was stressed yet she had the patience to explain and seek answers to my questions.Natasha took over my case towards the end and she also was great in listening and supporting me and made sure to defend my best interests against the other side at all time.The Worker's compensation process is very stressful, it can last for a long period. In my case it was three years and it is to the upmost importance to have people who treats you well, are professional and efficient.I am very satisfied with the outcome and I hope that this reviews helps the next person.Your assistance made the difference and I would have not been able to do it without your precious help.

read more
Melinda B.
23:57 04 Apr 22
Workers compensation and the medical-legal process is a complicated and a difficult process.If you are looking for a highly professional compensation/personal injury lawyer, I would without

...

hesitation definitely recommend Matthew Garling who is a genuine, caring & dedicated lawyer.Matthew, Allison Luck and co. are extremely professional, clear and concise with all communication and an exceptional support during the whole process of my claim, I felt confident and secure that I had made the right decision having Matthew represent me, they worked tirelessly and where 100% committed to getting me the best possible outcome.My case was complicated and Matthew never gave up fighting for me, he didn't just take the first option for a quick and easy resolution.He and his team got me the best possible outcome for my WPI and I will be forever grateful for their hard work and diligence. I now have peace of mind knowing I have lifetime medical assistance and payment till retirement age.

read more
Jim M.
12:25 27 Mar 22
Garling and Co lawyers you have done again with Success for my TPD claim! Ms. Emma Perkins and her team have assisted my TPD claim with great success after the hard work, She is a very down-to-earth

...

person, professional, and highly knowledgeable with insurance claim law. She is very approachable and always willing to help and often reply my question of email after business hours. I will most delighted to recommend Garling and Co Lawyers. Ms. Emma Perkins and her team to any person who needs insurance claim law service like me. by Julie

read more
Anthony N
22:13 17 Mar 22
I had Garling & Co Lawyers handle my workplace dispute, I could not be happier with the outcome, handled in such a professional way with excellent communication throughout the entire process.Natasha

...

and Kelli were very understanding in every aspect, requesting information via phone or email was never an issue, fast response times and helpful in every way. I HIGHLY RECOMMEND the team @ Garling & Co Lawyers. 👍

read more
Zee
14:20 15 Jan 22
I would like to thank the entire team at Garling and Co for being in my corner throughout the worst years I've experienced in my life.I chose Garling and Co in the end after being seriously injured

...

at work and needing representation, something I should have done years prior.I met with over 12 other legal firms in Sydney. Large,medium, small and all in between. Some were friends, some family, some were sharks, many were pressuring, many promised the world, Matthew was not like that.Matthew was the benchmark as he was one of the first I spoke with and ultimately he stood out in the end as I felt he was the most genuine.From the outset to the conclusion, I found Matthew to be very polite, easy to communicate with and extremely down to earth.He explained everything simply, he had answers for any questions along the way. He told me it how it was, not just what I wanted to hear.Matthew is a genuine nice guy that runs a very efficient and professional law firm. I made the correct choice engaging him in my claims and would not hesitate in recommending him.Renee was also terrific in handling my TPD claim which was literally finalised faster then international postage.Allison, Rebecca and Kelli were all great, always.Thanks again Garling and Co.

read more
mark S.
06:30 23 Dec 21
I found from my very first meeting With Matthew that he was upfront honest and to the point . He thoroughly investigated my claim and we agreed too proceed.The staff at Garling and Co are wonderful

...

and helpful and I was kept informed and upto date from day one till the end .They made me feel confident and secure and I know I had the best team possible for my best outcome .I can't thank Matthew and the team for their wonderful service

read more
Daniel F.
08:48 10 Nov 21
My wife suffered psychological injury.Never having similar experience she had to get legal advice.Workers compensation law is complex and she needed someone to help her navigate her way through.

...

There are many compensation lawyers but not all with enough experience and strong reputation . We have finally decided to go with Matthew and his team based on the independent website reviews .Looking back now we have made the right choice .There is lot of hurdles and having trustworthy lawyer with great communication skills on your side can make huge difference .My wife can now try to move on with the compensation she deserved.Thanks to Matthew ,Allison ,Emma,Rebecca and rest of the team. Thank you again.Daniel and Veeraya

read more
K B.
07:35 28 Oct 21
When you work for an employer for a number of decades and suffer a debilitating injury, you expect compassion, support and belief that you are genuine. When you don't get that and then also have to

...

deal with Workers Compensation Insurers it slowly breaks you.That's when you need amazing support like Matthew Garling and his team. From my first meeting with Matthew I was confident I was referred to the right guy. I couldn't be more pleased with my outcome. Matthew is the Guru of workers compensation, he is professional, easy to work with, nothings a bother and most importantly he gets great results. Do not think twice about using Garling and Co Lawyers.Thank you Matthew, Renee, Allison and Kelli for your invaluable support.

read more
READ ALL TESTIMONIALS