NSW Workers Compensation weekly benefits explained.
Weekly Compensation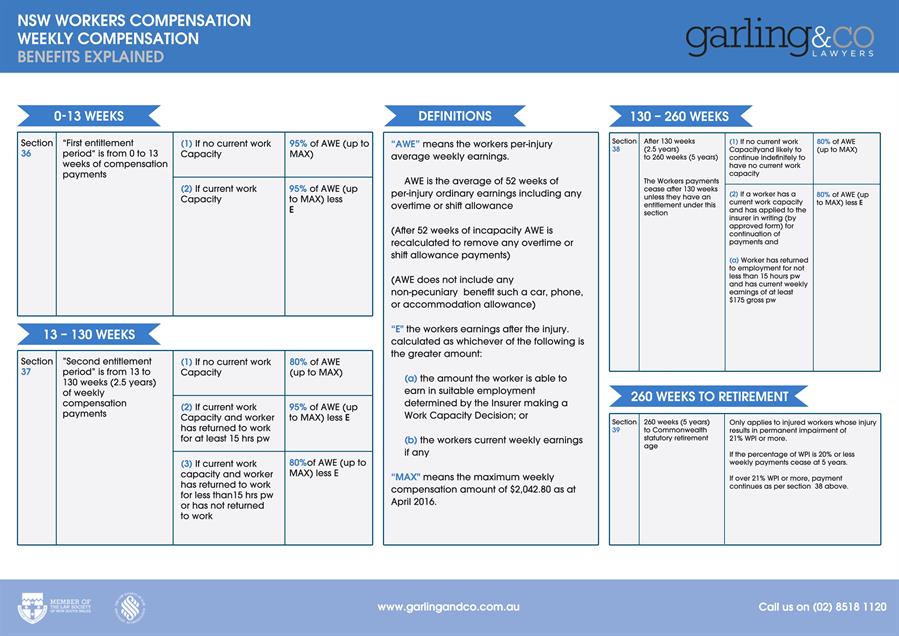 Zee
14:20 15 Jan 22
I would like to thank the entire team at Garling and Co for being in my corner throughout the worst years I've experienced in my life.I chose Garling and Co in the end after being seriously injured

...

at work and needing representation, something I should have done years prior.I met with over 12 other legal firms in Sydney. Large,medium, small and all in between. Some were friends, some family, some were sharks, many were pressuring, many promised the world, Matthew was not like that.Matthew was the benchmark as he was one of the first I spoke with and ultimately he stood out in the end as I felt he was the most genuine.From the outset to the conclusion, I found Matthew to be very polite, easy to communicate with and extremely down to earth.He explained everything simply, he had answers for any questions along the way. He told me it how it was, not just what I wanted to hear.Matthew is a genuine nice guy that runs a very efficient and professional law firm. I made the correct choice engaging him in my claims and would not hesitate in recommending him.Renee was also terrific in handling my TPD claim which was literally finalised faster then international postage.Allison, Rebecca and Kelli were all great, always.Thanks again Garling and Co.

read more
mark S.
06:30 23 Dec 21
I found from my very first meeting With Matthew that he was upfront honest and to the point . He thoroughly investigated my claim and we agreed too proceed.The staff at Garling and Co are wonderful

...

and helpful and I was kept informed and upto date from day one till the end .They made me feel confident and secure and I know I had the best team possible for my best outcome .I can't thank Matthew and the team for their wonderful service

read more
Daniel F.
08:48 10 Nov 21
My wife suffered psychological injury.Never having similar experience she had to get legal advice.Workers compensation law is complex and she needed someone to help her navigate her way through.

...

There are many compensation lawyers but not all with enough experience and strong reputation . We have finally decided to go with Matthew and his team based on the independent website reviews .Looking back now we have made the right choice .There is lot of hurdles and having trustworthy lawyer with great communication skills on your side can make huge difference .My wife can now try to move on with the compensation she deserved.Thanks to Matthew ,Allison ,Emma,Rebecca and rest of the team. Thank you again.Daniel and Veeraya

read more
K B.
07:35 28 Oct 21
When you work for an employer for a number of decades and suffer a debilitating injury, you expect compassion, support and belief that you are genuine. When you don't get that and then also have to

...

deal with Workers Compensation Insurers it slowly breaks you.That's when you need amazing support like Matthew Garling and his team. From my first meeting with Matthew I was confident I was referred to the right guy. I couldn't be more pleased with my outcome. Matthew is the Guru of workers compensation, he is professional, easy to work with, nothings a bother and most importantly he gets great results. Do not think twice about using Garling and Co Lawyers.Thank you Matthew, Renee, Allison and Kelli for your invaluable support.

read more
Moussa I.
14:23 20 Sep 21
Great attitude! they return my call every time I callI'm very confident I will reach something good with garling &co
Dulce L.
08:48 23 Aug 21
Garling & Co have been exceptional. Matthew was always professional attentive clear and concise, I felt up most confidence in his management dealing with my matter always had my best interest. i

...

highly recommend Garling & Co Lawyers

read more
Melissa H
11:53 10 Aug 21
I am grateful to have had Matthew represent me on my motor vehicle compensation claim.After meeting with two lawyers previous to deciding on Garling and co, I was left unsure and confused as to

...

where I stood regarding my claim. Matthew and Allison were incredibly helpful, put my mind at ease, and took the worry and stress out of an already difficult situation.Through the settlement process they would always keep me informed and made time to answer all of my questions. I am really pleased with the outcome of the settlement.Thank you to the team at Garling and Co

read more
Violeta C.
07:30 05 Aug 21
My experience with Garling & Co was great. Matthew was always professional, attentive and communicated in a clear manner. I felt confident in his management of my matter & always had my best interest

...

in mind.I have no reservation in recommending Matthew & the Garling & Co team.

read more
Ann F.
04:11 04 Aug 21
Professional and helpful
READ ALL TESTIMONIALS